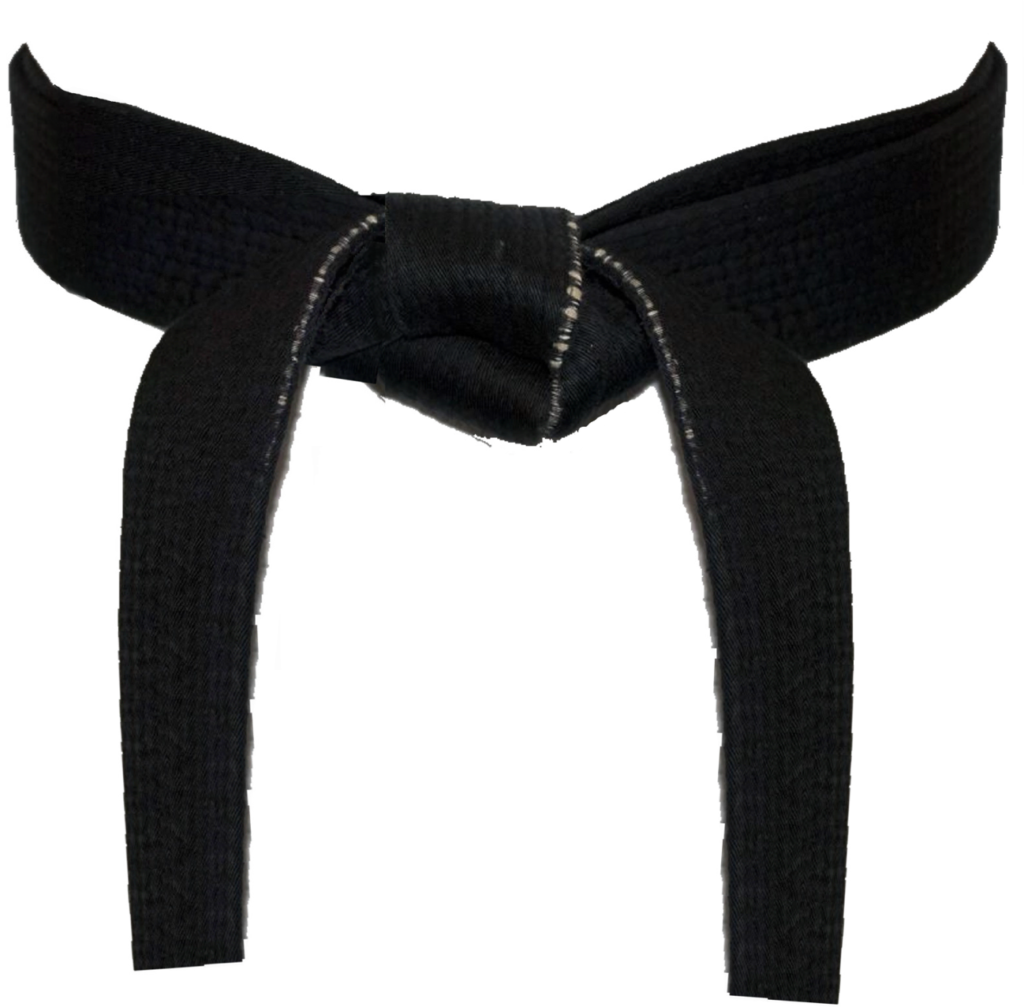 "The Black Belt around my waist does not represent who I am. It represents who I can be, who I have become, and how much further I have to go…" — Unknown
The Snow Tiger black belts have earned their place of achievement and honour through rigorous training and one of the most extensive and exhausting examinations known, some test exceeding 8 grueling hours of pain, sweat, and personal achievement.
These individuals have realized the true beginning of their journey does not start with white and end with black… they have realized they have only just begun to learn.
With honor, humility, and respect – please see our list of esteemed Black Belts below: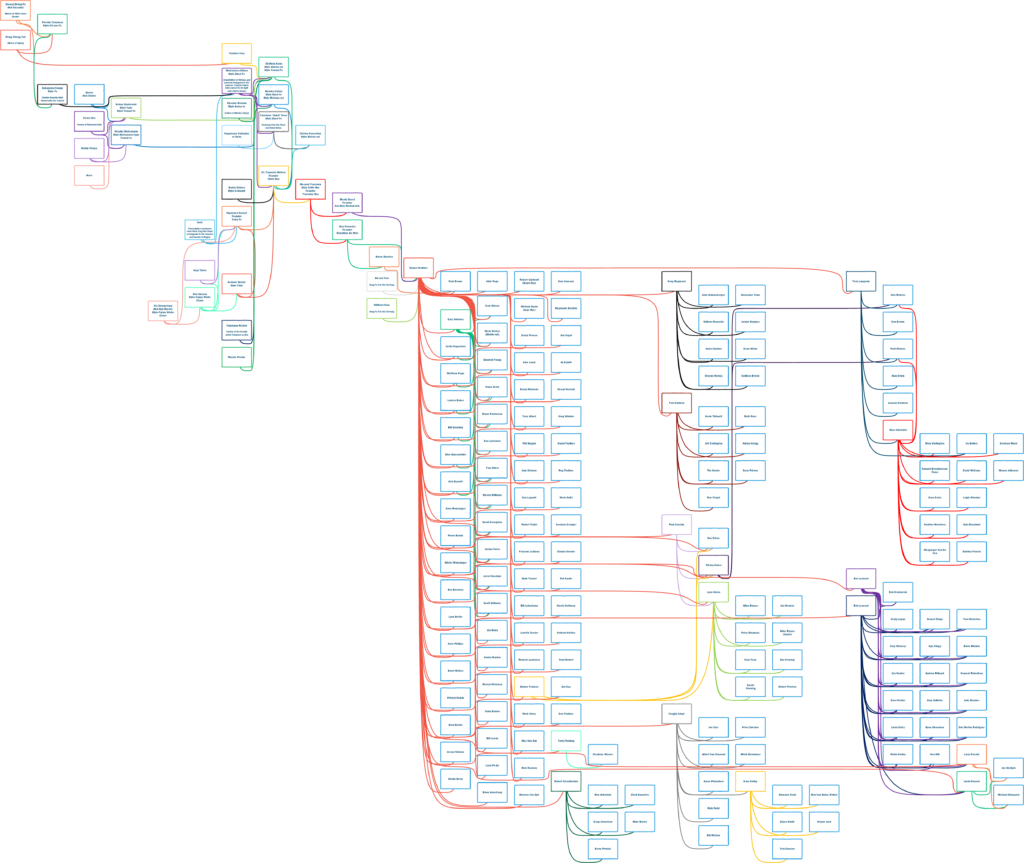 Albert, Terry (Walther)
Aquin, Michael (Gojo-Ryu) (Walther)
Armstrong, Brian (Walther)
Baker, Larissa (Hollman / Walther)
Barrett, Kirk (Hollman / Walther)
Beaubiah, Kyle (Chisholm)
Boomhour, Mitch (Lloyd)
Berry, Jim (Walther)
Berry, Sheila (Walther)
Bertin, Brad (Walther)
Bertin, Lynn (Walther)
Billyard, Andrew (Leonard / Leonard)
Blimkie, Brian (Leonard / Leonard)
Boivin, Pierre (Walther)
Brereton, Bev (Walther)
Brooker, Jody (Leonard / Leonard)
Brookhoeven-Fiene, Hannah (Chisholm)
Brown, Caillean (Magwood)
Brown, Don (Langevin)
Brown, Mike (Chamberlain)
Brown, Paul (Stanton / Walther)
Bryans, Allan (L. Dafoe)
Bryans, Allan Jr (L. Dafoe)
Brydges, Jordan (Magwood)
Brydon, Harvie (Walther)
Burnie, Colin (Walther)
Caldwell, Robert (Wado-Ryu) (Walther)
Carr, Joe (Lloyd)
Cassidy, Paul (Walther)
Chadwick, Kim
Chamberlain, Robert (Walther)
Chisholm, Stan (Langevin)
Clapp, Kyle (Leonard / Leonard)
Clapp, Garnet (Leonard / Leonard)
Clark, Owen (Hollman / Walther)
Cleverdon, Ryan (Leonard / Leonard)
Cleverton, Tom (Leonard / Leonard)
Conyers, Tom (Dalley)
Cook, Shannon (Dalley)
Cotnam, Judy (Walther)
Dafoe, Lynn (Cassidy / Trudeau / Walther)
Dafoe, Susan (Cassidy / Trudeau / Walther)
Dafoe, Tiffany (Cassidy / Trudeau / Walther)
Dalley, Dave (Lloyd)
Darlington, Mary (Chisholm)
Darrington, Jeff (Hadwen)
Davis, Dave (Chisholm)
Denard, Larry (Leonard / Leonard / Walther)
Denard, Linda (Leonard / Leonard / Walther)
Desilets, Stephane (Walther)
Dewitt, Al (Walther)
Dierijck, Joe (Denard / Denard)
Dodd, Rick (Lloyd)
Duffy, Linda (Leonard / Leonard)
Emmerson, Bryan (Hollman / Walther)
Erwin, Alan (Langevin)
Favre, Jordan (Hollman / Walther)
Fleming, Terry (Walther)
Forget, Ron (Hadwen)
Foulkes, Dan (Walther)
Foulkes, Darryl (Walther)
Foulkes, Reg (Walther)
Fraser, Ian
French, Sabrina (Chisholm)
Gibson, Gary (Hollman / Walther)
Goltz, Mark (Walther)
Goodwin, Bill (Hollman / Walther)
Goodwin, Jarret (Hollman / Walther)
Grabowski, Bob (Leonard / Leonard)
Granger, Jocelyne (Walther)
Gregg, Adrian (Hadwen)
Grenier, Claude (Walther)
Hadwen, Tom (Walther)
Hagerman, Justin (Hollman / Walther)
Harley, Robin (Leonard / Leonard)
Harris, Pat (Walther)
Harrison, Jeannie (Langevin)
Hathway, Nicole (Walther)
Hatton, Graham (Walther)
Heuving, Sarah (L. Dafoe)
Heuving, Sue (L. Dafoe)
Hill, Ken (Leonard / Leonard)
Hollman, Gary (Walther)
Hubert, Noel (Walther)
Johnstone, Doug (Chamberlain)
Jolicoeur, Manon (Chisholm)
Kay, Jim (Walther)
Kearney, Rick (Walther)
Kelso, Mark (Walther)
Keoughan, Sarah (Hollman / Walther)
Lachance, Dan (Hollman / Walther)
Lachance, Richard (Walther)
Lafontaine, Bill (Walther)
Langevin, Terry (Walther)
Leblanc, Francois (Walther)
Legault, Don (Walther)
Leonard, Bev (Walther)
Leonard, Bob (Walther)
Lewis, John (Walther)
Lloyd, Vaughn (Walther)
Logan, Craig (Leonard / Leonard)
Lord, Wayne (Dalley)
Lundy, Bill (Walther)
Mack, Garrison (Chisholm)
Magwood, Greg (Walther)
Mahoney, Murray (Walther)
Maurer, Charlene (Fleming)
McCann, David (Chisholm)
McCaw, Bill (Lloyd)
McCory, Ron
McCoy, Brent (Walther)
Meinzinger, Alister (Walther)
Meinzinger, Dave (Walther)
Mokros, Kim (T. Dafoe / Langevin / Chisholm)
Mokros, Paul (T. Dafoe / Langevin / Chisholm)
Montrose, Heather (Chisholm)
Nickle, Patrick (Walther)
Nielsen, Jessye (Walther)
Oliver, Tara (Hollman / Walther)
Oullette, Gary (Leonard / Leonard)
Page, Julie (Walther)
Page, Matthew (Hollman / Walther)
Palmateer, Aaron (Lloyd)
Palmer, Sean (Hadwen)
Perks, Larry (Walther)
Phillips, Dave (Walther)
Poirier, Dave (Leonard / Leonard)
Powick, Kevin (Chamberlain)
Preece, Darryl (Walther)
Preston, Robert (L. Dafoe)
Richards, Darryl
Remus, Cheyne (Magwood)
Reynolds, William (Magwood)
Robertson, Howard (Leonard / Leonard)
Ross, Beth (Hadwen)
Saunders, Cheri (Chamberlain)
Schlamp, Duane (Walther)
Schneeberger, John (Magwood)
Schofield, Ron (Chamberlain)
Scriber, Adam (Magwood)
Seguin, Phil (Walther)
Sellers, Ivy (Langevin / Chisholm)
Senier, Tim (Hadwen)
Sheppard, Michael (Denard / Denard)
Slauenwhite, Glen (Walther / Hollman)
Smith, Diana (Dalley)
Stephens, Petra (L. Dafoe)
Taylor, Robert (Walther)
Tessier, Alain (Walther)
Tessier, Loretta (Walther)
Thibault, Kevin (Hadwen)
Toop, Kaia (L. Dafoe)
Town, Alexander (Magwood)
Trudeau, Shawn (Walther)
Van Balen Walter, Bob (Dalley)
Van De Ven, MacGregor (Chisholm)
Van Dreumel, Albert (Lloyd)
Van Dyk, Max (Walther)
Van Dyk, Sharron (Walther)
Vanexan, Dan (Walther)
Vogel, Jim (Walther)
Walther, Robert (Chao / Forrester / Guest / Tom)
Weese, Jeffrey (Leonard / Leonard)
Werden, Jim (L. Dafoe)
Westall, Cheryl (Walther)
Wheeler, Leigh (Chisholm)
White, Dean (Magwood)
Williams, Scott (Hollman / Walther)
Williams, Steven (Hollman / Walther)
Winkler, Greg (Walther)
Young, Shontell (Hollman / Walther)
Zwicker, Peter (Lloyd)
List of Tai Chi and Chi Kung Lineage Instructors Since 1973
Chamberlain, Robert
Felts, Jean
Langevin, Terry
Lehman, Stephanie
Leonard, Bev
Magwood, Greg
McLaren, Dave
Simla, Lesley
Walther, Robert
Werden, Jim
Zabludofsky, Sandra
List of Kung Fu Lineage Instructors Since 1973
Chamberlain, Robert
Magwood, Greg
Nielson, Jessye
Walther, Robert